The Mumbling Manxman is an 18th Century traveling Field Tavern, and can be seen at a variety of Revolutionary War reenactments traveling with units of the Continental Line. Please do not confuse this fine establishment with its evil twin, the Mangled Muskrat. The proprietor of this fine establishment hails from the Isle of Man, and their inhabitants are referred to as Manxmen, hence the basis for the name of the tavern.
The purpose of this Traveling Field Tavern is to educate the public on the importance of field taverns and taverns in general and the role they played in the evolution of 18th century America, supporting the troops - both British and Patriot - in camps and in the development of towns. Taverns demonstrated the importance of community and a place to relax from the madness of war and daily life; get a good meal in some cases and enjoy the music of the time. The tavern was also a gathering place to hold town meetings and to barter, trade and do business. The tavern was an important place to find out what was going on in other parts of the world, lastly there was the beer. Our brewers will be giving talks on the craft of making fine beers and wines of the period. The keepers of the tavern are members of the 11th Pennsylvania Regiment.
Visit our fine establishment at various reenactments throughout the year.
N O T E
This website is just starting to take shape. Check back as this site develops.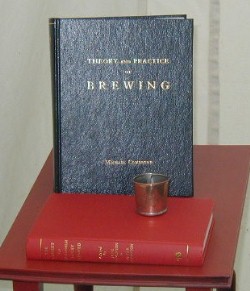 When the field tavern is set up, there will be displays and demonstrations showing the art of brewing and Hops and Barley in their raw form, along with their transformation from crop to brewed masterpiece.